The food service industry is made up of fast paced multi-taskers.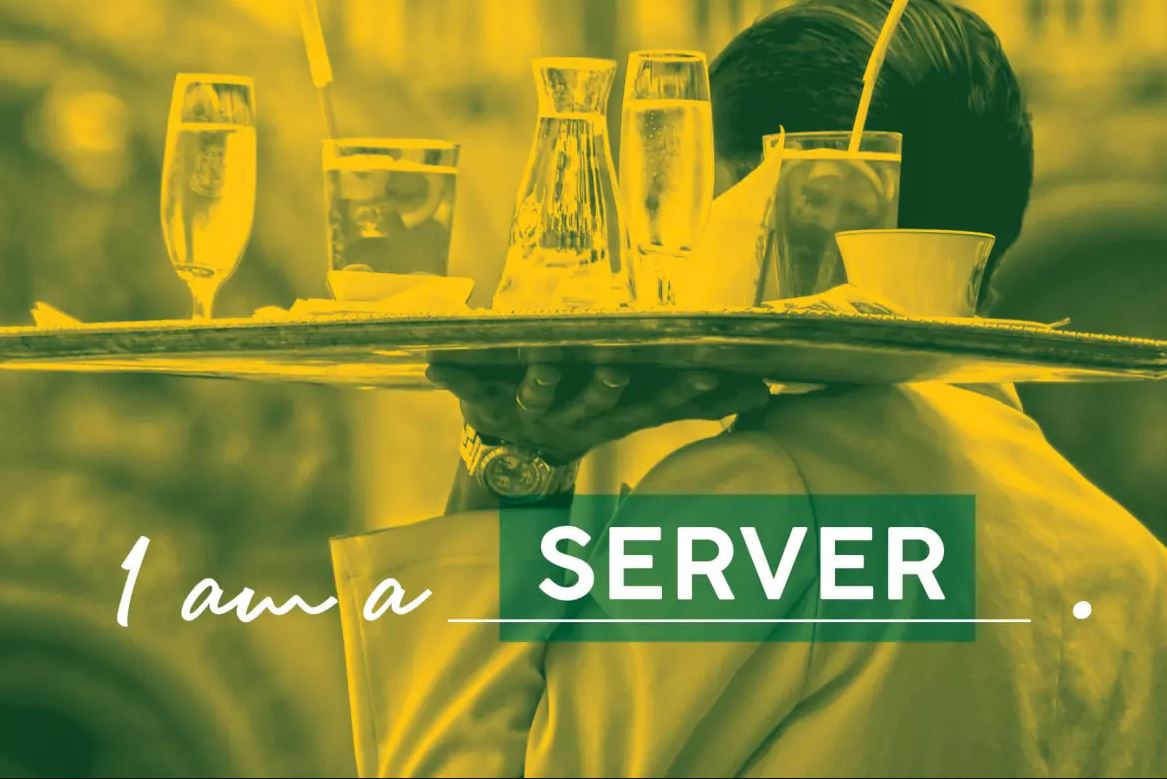 Stay safe, happy, and healthy with these daily reminders.
Improve your memory
If there are more than eight people, it is recommended to use a notepad, but committing orders to memory is easier than one might suspect. Tips and tricks can be found here from hospitality teams interviewed all over the world.
Staying stain-free
Employees can get into some messy situations—especially around food. Servers are often victims to splashes and spills, so here are a few tricks-of-the-trade for keeping uniforms clean and spotless:
Gently clean a red wine stain by covering a bowl with the stained fabric. Cover the stain with salt and pour boiling water over the soiled area. Use hot water to wash the entire garment.
To clean a tomato sauce stain on your clothing, scrape away any solid remains first. Next, soak the stain in cold water for 5 minutes, and scrub the area gently with liquid detergent. Wash the garment in hot water and air dry.
Use club soda to soak a coffee stain. Blot with a clean cloth until the stain is gone.
Remove ketchup from clothes by soaking the stain in cold water, coating the area in liquid laundry detergent, then applying hydrogen peroxide.
Take a break
Food service comes with a multitude of stresses. Studies have shown that listening to music can decrease stress-related symptoms by as much as 65%. When schedules allow, take five minutes and put your earbuds to work. Free relaxing music for stress relief can be found here or here. Not a music fan? Try listing to natural sounds to add some calm into your day.
Safety first
Wellness includes feeling safe. Business owners are recommended to take precautions in keeping their establishments safe to help prevent employee accidents.
At Preferred Employers Insurance, our Preferred Risk Advisors team provides an array of services that are included in annual premiums—including customizing site-specific plans for keeping employees safe.
Workplace wellness is achievable with being mindful of emotional, occupational, and intellectual balance. This combination provides a harmonious way of working and living.
We are dedicated to being the preferred workers compensation insurance solution for businesses in California. Contact us today at [email protected]  for more information on how we serve the restaurant industry.
Sources:
https://www.news.com.au/lifestyle/food/restaurants-bars/how-waiters-and-baristas-remember-your-order-with-cool-memory-tricks/news-story/bfc056cd8501514836e969ea5f35f75d
https://www.destressmonday.org/reduce-stress-music/
https://soundcloud.com/search?q=calming%20music&query_urn=soundcloud%3Asearch-autocomplete%3Aa0b8c8f032814c5b9432f319e12be153
https://soundcloud.com/search?q=stress%20relief%20music&query_urn=soundcloud%3Asearch-autocomplete%3A675ab7959d394eefb0c23f6419093c8c
Preferred Employers Insurance is pleased to share this material with its customers. Please note, however, that nothing in this article should be construed as legal advice or the provision of professional consulting services. This material is for general informational purposes only, and while reasonable care has been utilized in compiling this information, no warranty or representation is made as to accuracy or completeness.
Back to Blog Homepage